Great Hair
A decade of delivering great hair to the Bethesda Community. Franz Sebastian's Stylists will discover your best look given their experience in trending of-the-moment styles, classic coifs, and color innovations. From radiant reds, beautiful brunettes to bombshell blondes. We appreciate our craft and want to share.
Good People
Bethesda Magazine's Readers Pick for Best Hair Salon 2015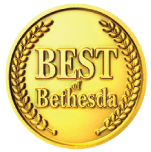 In Other News...
Unite Products for Summer
Share Your New Look! Want to receive 15% off your favorite product? Just a photo of your new look to any social media outlet. Then when you check in at Franz Sebastian Salon at your next appointment, show us your social media posting and we'll give you a 15% discount on the product of your choice!
R & Co-Oblivion Shampoo & Conditioner
R & Co Oblivion Shampoo & Conditioner removes color-dulling residue and buildup from chlorine, hard water, and styling products. After clarifying your hair with Oblivion Shampoo, use Oblivion Conditioner, a serum-like gel that conditions and hydrates hair, leaving it looking healthy and natural.
HAIR SERVICES
WOMEN'S CUT 75+ | MEN'S CUT 45+ | CHILDREN UNDER TWELVE 35+
FORMAL STYLING 75+ | BLOWDRY 40+ | CONDITIONING TREATMENT 25+
HAIR EXTENSIONS
UPON CONSULTATION
COLOR & TEXTURE ENHANCERS
OLAPLEX 60+ | GLOSS/TONER 25+
ONE-STEP COLOR 75+ | PARTIAL HIGHLIGHT 100+ | PARTIAL BALAYAGE 110+
FULL HIGHLIGHT 135+ | FULL BALAYAGE 150+
FULL HIGHLIGHT & COLOR 150+ | OMBRE 170+ | PERMANENT UPON CONSULT
BRAZILIAN BLOWOUT 350+
BRAZILIAN BLOWOUT EXPRESS
COPPOLA EXPRESS BLOWOUT 125+
COPPOLA KERATIN COMPLEX 325+
JAPANESE RELAXER 500+